Creative workshops
We have a selection of workshops that are run from 10am till 12pm.
Venue: 174 long rd, Greymont, JHB
We have chosen to put two slots in for each workshop one of the classes are during office hours to help the community member with time for travel and access to transport.
Our second workshop is on Saturdays from 10 am till 12 pm to help accommodate people that are working during the week but do not want to miss out on the fun.
We happy to do block booking by appointment for private classes
Sponsor a workshop
We would love your support to offer an additional seat at this event for someone who cannot afford it.
Select a workshop
Please take a look at what is on offer in our shopping cart below.
We have tried to have a mix of workshops so there is something for everyone.
Please feel free to email me with suggestions and if you not in JHB and would like a zoom session we can also set that up.
Selection of workshops
Thank you for all your ongoing support
All the work done so far has been made possible through your purchases of our products and supporting our workshops. Much appreciated, thank you.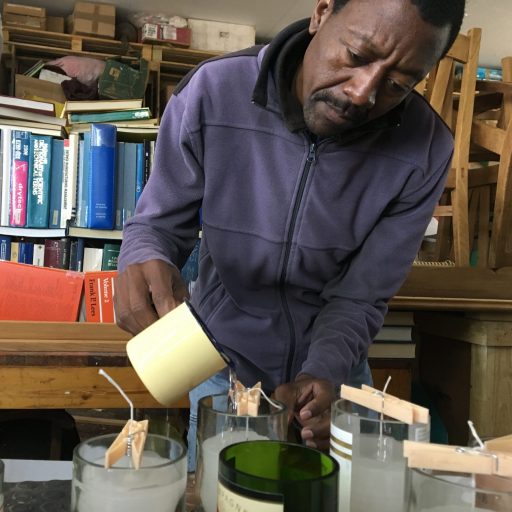 For a Creative waste workshops for fundraising.
Our model of creating entrepreneurs that build a business to sustain their family while cleaning the planet is successful beyond our wildest dreams. We would like to share some of the fun and creative workshops that have inspired these entrepreneurs with you. These workshops will help us raise funds as we are not making enough impact fast enough to really turn South Africa around and turn job creation into a way that can clean up our lands and make sure we have a health earth for future generations to come.
We are offering upcycle workshops to help us generate funding to grow our impact and scale our entrepreneurs. The more waste worriers out there that can solve waste to landfill issues the less negative impact we need to address down stream.
Our main focus is to get more training in many more communities as soon as possible. The pressure that our delicate earth is under due to the lack of understanding of our impact on it and how we can make a difference in a large way just by starting with keeping our environment clean needs to be addressed
Please consider sponsoring a workshop for someone that cannot afford it and also entice your friends to a fun filled workshop that can get you creating fun and practical zero waste to landfill products.