HOW LONG HAVE YOU BEEN WITH UPCYCLE & WHAT DID YOU DO BEFORE?
Before joining Upcycle in 2017 I held a sales and marketing position in the alcho-bev division at Consol glass. I had also worked as a technical support officer for an IT company promoting entrepreneurship, and had even helped develop a math tutor app (which we approached government about, but unfortunately the projects did not take off).
Then my life took a complete turn.
I wasn't content with the 9-5, traffic and bureaucracy of corporate life, and knew inside me there was a better way. 
HOW DID YOU BECOME AN UPCYCLER?
Back home in my community in Hammanskraal I joined a recycling program led by a local glass company who were collecting glass for reprocessing. Unfortunately, even though the community was eager to participate, driven and met deadlines, there were challenges. The process was labour intensive, time consuming, and eventually incentives were not enough to drive the program. This resulted in the project being abandoned by the community and piles of glass waste left in their backyards. The big question was: What would happen to all the bottles?
I didn't have an immediate answer, but my passion for math and science in school led me to embark on an experimental adventure to develop my skills and come up with a solution. Because there were no waste management services, the community either dumped or burned their waste on site. I observed that during the burning of waste the glass bottles with lids on exploded, but those without just cracked. An idea sparked. I got thinking that if the heat could be controlled and concentrated, I could achieve a clean break. This way, the bottles could be turned into drinking glasses or something useful.
I began experimenting. Initially, I used a wire hanger that was shaped into a ring, heated on a coal stove and twisted tightly around the point I wanted to cut. If successful it could then be sanded, bevelled and polished. Viola! I had a drinking glass.
There was both interest and demand for the product, but the method was not suitable to meet demand or supply a consistent quality product.  I began shopping around for solutions, which led me to Upcycle! Upcycle had the experience, technique, equipment and controlled environment I needed. And they weren't restricted to glass cutting but could repurpose everything! Upcycle shared their knowledge, welcomed me into the team, and here I am today. 
WHAT DO YOU DO AT UPCYCLE?
Now, I am in charge of the glass manufacturing at Upcycle. I facilitate training and assist with the sales, distribution and management at the Zero Waste store.  But working in a small business with diverse offerings, there are always so many things happening that I jump into any task that needs to be done. 
WHAT'S YOUR FAVORITE UPCYCLING ACTIVITY?
I love working with my hands. I find the process of technically refining, quality checking and preparing my crafts for presentation really therapeutic. I get real satisfaction seeing the look of "wow" on clients faces. In fact, receiving my first review from a client felt like getting a big hug. Receiving appreciation for my talent and hard work is priceless, because it means I've touched your soul with my craft.  
WHAT HAVE YOU LEARNT WORKING AT UPCYCLE?
The most critical life lesson is to adapt to change. Coming from a white collar job to working in a hands-on environment I had to adapt to be successful. And I did. I had to adjust my mind to new ways of working, and my body adapted to the aerobics!
The second important lesson is that money is not everything. I've really relooked at what I value and what I want in life. I've come to appreciate the qualities of striving for what we believe in, the value of friendship, and the power of reaching for hope. Although I understand the value of money and the need for it in this life, I no longer obsess over it.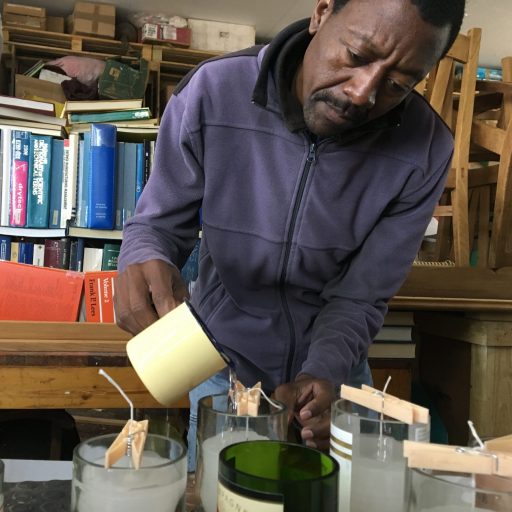 WHAT IS YOUR BIG DREAM?
Loving science and math; one of my heroes is Mark Shuttleworth. He once shared a vision of 'smart communities' whose water could be pumped by children playing on converted playground equipment. A vision where people are empowered through innovation. I too dream of communities whose needs are met through the capacities and talents of the community. I would love to see that vision come to life.
But really, I just long for a simpler, happier society. A society that can interact freely with nature. One that can stop to appreciate the setting sun, a kind word from a friend, a simple "thank you" or "please". I long for co-existence.
IF YOU COULD ASK FOR ONE THING WHAT WOULD IT BE?
I would love to live in my own off-grid home; complete with a real grand piano… or a saxophone. But if I could ask for an experience, it would be to drive Chapmans Peak with the hood down in a hybrid Lexus (I don't even have to own it).